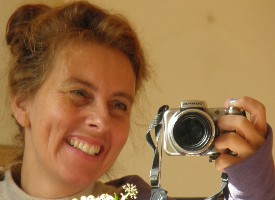 This blog is about a healthy and tasty way to eat and my travels around the world.
My name is Heidi and I lived most of my life in Italy and some time/years in Germany, Greece, Turkey, Spain and Ireland. I feel Italian despite I have another nationality on the passport.
It has been a while that I have gone through (for me) very tough times and afterwards I realized I was in a really bad condition, physically and especially mentally. So I started to change things in my life. One of the most important ones was my diet. And that was a big deal for me. I stopped from one day to another to eat sugar and (bad) carbs. I fasted for 3 weeks and then I started an oil-protein-diet. Soon I felt much better, physically and in my moods. So I started with all kinds of natural ways like homeopathy and Brandon Bays. I came across paleo, green smoothies and even raw food.
Now I am paleo-vegetarian in a way and try to figure out how to do all the yummy food without bad carbs. And I like to share my food experiences with you. Like my joy for photography and traveling around.
Originally I am a skilled tourist guide and worked in Ischia/Italy and Mallorca/Spain for many years. I quit my job in 2002, did small translating jobs for a few years while learning about computer and started to write for webmasters and became a skilled content manager. And that's what I am still. And now a blogger too 😉
My languages are Italian, English, German and Spanish.
Hope you like my blog and enjoy reading, maybe find something new or perhaps be inspired to change things in your life.
Heidi
Please note:
Copyright/Photography
All content on this blog, including the photography, is my own work, which means it is copyrighted with All Rights Reserved, unless otherwise noted. Please ask first before republishing or distributing any of my work! If you are interested in using texts or photographs please contact me. You may not use my work for commercial purposes without my permission. You may not alter, transform, or build upon this work in any form.
The photos are not free for the picking to be republished in any form. A short email asking to use them would save you a lot of trouble and harassment.
Any link going to 'amazon' is an affiliate link and when you click on it I get some cents for your purchase. Thanks for your help!