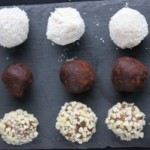 A little treat for a special moment
Servings

Prep Time

14

20

minutes
Servings

Prep Time

14

20

minutes
A little treat for a special moment

Servings

Prep Time

14

20

minutes

Servings

Prep Time

14

20

minutes
Put all three ingredients in a blender and blend till smooth.

Put in a bowl and form little balls with the help of a teaspoon.

Roll one half of the balls in the cacao powder and one half in the chopped nuts.
The basic recipe is so simple like no one else.
The coating is giving a different taste to the truffle which is already heavenly without any.
As coating you can take pistachio, walnuts, hazelnuts, cacao, coffee, cinnamon... the list goes on. Try whatever you have in your pantry or what you like more.
The truffles remain soft. To harden them put them in the freezer for an hour. They will get soft again when completely warm.
They are perfect as a gift wrapped in a plastic foil, in a little paper box or in a nice cup.