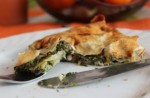 A typical snack in the Mediterranean area
Servings

Prep Time

4

20

minutes
Servings

Prep Time

4

20

minutes
A typical snack in the Mediterranean area

Servings

Prep Time

4

20

minutes

Servings

Prep Time

4

20

minutes
Clean and chop onions and garlic gloves. In a pan fry all till golden in a little bit of oil. Add spinach and some salt and pepper. Let it cook for a while till it is smooth. Take away from fireside and turn of the heat.

Now take the cheese and cut it into pieces. Add the cheese to the spinach in the pot, stir briefly and let it there.

In a small bowl now put eggs, salt, pepper, oil and milk. Stir all well. This will be the 'glue' for the yufka dough.

Preheat the oven on 175°C.

Take the first yufka sheet and place it on the baking tray. Take a brush and gently coat the dough with the prepared egg-oil glue.

Now take 4 to 5 tablespoonful of the spinach-cheese and spread it well on the yufka. Close above all with the dough. Put again the egg-oil glue and add a new layer of spinach-cheese on the top. Close again with the dough and put the egg-oil glue. Finish the spinach-cheese composition and close all well with the yufka. Take parts of the other sheet (just rip off pieces of a big one) to close well the single layers. Spread on the last yufka layer all the rest of the egg-oil glue. The dough has not to be dry.

Now put into the oven and cookuntil golden on the top.

Let it cool just a few minutes and then cut into small pieces, about 10 x 10 centimeters. Arrange on a big plate and serve.
This kind of pie is also great with only cheese or who likes it with minced meat. For a special taste roast pine nuts in the beginning with the onions and garlic.
Before using the cheese let drip the water away so it is not too wet for cutting.
Börek is great for parties for example.
If you have left overs put them covered in the fridge over night. The day after they are still great and can be warmed up also in the oven.