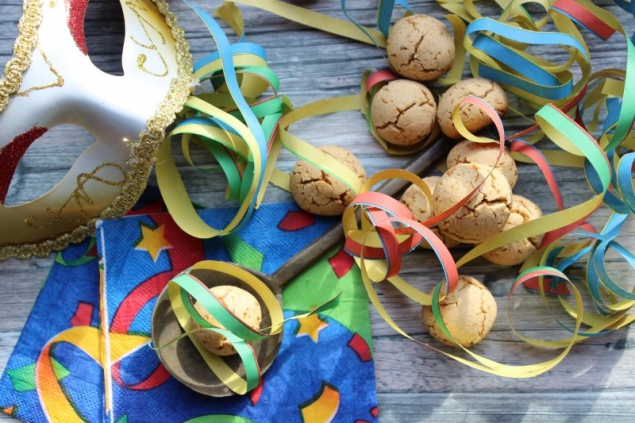 During every season and event there are so many typical and traditional treats in Italy like for sure in all countries. For the time of carnival I personally like a lot the chiacchiere. But this year I wanted to try castagnole. A typical soft cookie with a light taste of vanilla and lemon. They are easy to make and can be done in the oven or fried. I chose the oven. Fresh made, still warm and soft, they can be rolled in coconut sugar or any other paleo friendly sugar, dusted with paleo friendly icing or just leave them the way they come out, like I did. They have a great taste and one calls the other!
---
In a big bowl put the rice flour and the starch and mix well.

In another bowl add the coconut flower sugar and the butter and mix again well

Add the lemon zest and the eggs, mix well and add then slowly the flour mixture. Stir first with a wooden spoon, then take your hands to kneel the dough. It will be a soft but firm dough ball.

Preheat the oven to 225°C/350°F and put a parchment paper on a baking sheet.

Now form small balls out of the dough and put them on the baking sheet.

Bake for 10 minutes or until golden.
They should be eaten while they are still warm.
Roll them in pure sugar (paleo friendly), in a sugar mix with cinnamon or leave them 'bare' like I did.
You can fry them as well. In this case take a frying pot, add frying oil and put a few dough balls at a time into the hot boiling oil. Take them out when they begin to turn golden brown, put them on a paper towel to absorb the excess oil and then roll them in the sugar/mix or leave them 'naked'.
You can dust them also with colored icing to make them more fun.
---