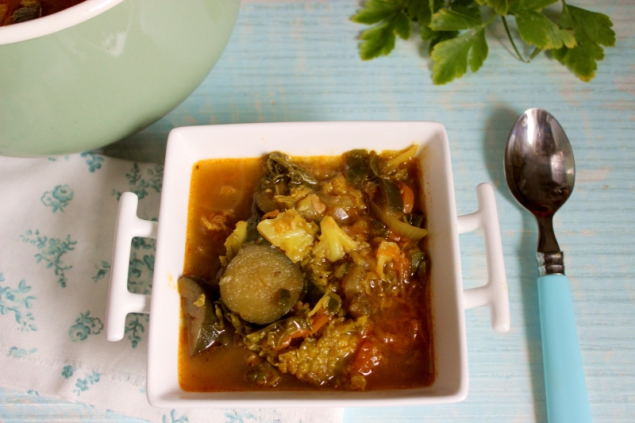 During winter time when it's cold and dump outside it's always nice to have a hot, steaming yummy soup in a bowl.
I do love vegetable soups in first place. And so often I prepare a kind of minestrone which I like spicy. Normally I let the veggies the way they are cooked but sometimes I use my hand blender to get a thick veggie soup.
This soup has a lot of pepper, chilli, curcuma and a teaspoon of Harissa. This is a spice from the North African countries and they use it for meat and vegetable dishes. As an extra 'blob' I put every bowl a teaspoon of coconut cream. Sooo good! And you can be sure after having one or two bowls of steaming veggie soup you will be warm!
Enjoy!
Wash all the vegetables and cut them into pieces.

Peal and cut the onion and garlic in small pieces and get them golden in a big pot together with the olive oil.

Add all the vegetables and two liters of water – or as much as the vegetables get all covered well.

Now add the spices. If you like it more spicy add more.

Let it cook for half an hour or until the vegetables are soft.

Let it sit for a while before serving. Put a teaspoon of coconut cream on the top of every bowl you serve.
I usually make a huge pot for myself the evening before I want to eat the soup. This way the vegetables take all the taste of the spices.
Serve really hot as it's great to eat as hot as possible.
You can vary the spices as you like them.
I used middle seized vegetables. If you have only small ones take twice of them.
---